Implant Dentures – DuPont, WA
New Smiles for Life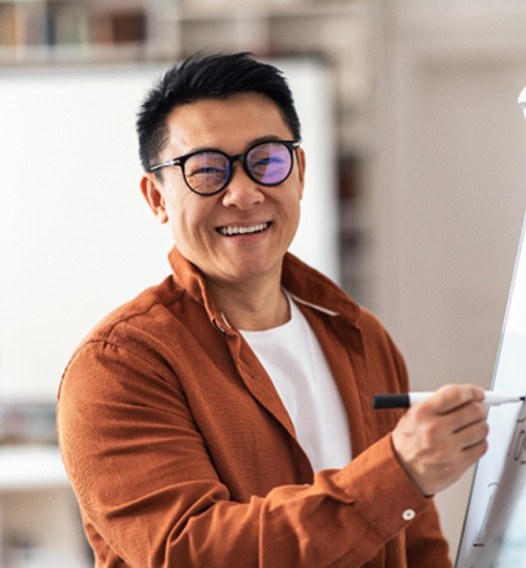 An entire arch of missing teeth can leave a person feeling embarrassed and unsure about the future of their oral and overall health. Being unable to perform normal daily tasks like eating can create issues throughout the body that require time and money to treat. When it comes to living life with an incomplete smile, it can wreak more havoc than people think. The good news is that at DuPont Family Dentistry, our team can provide a reliable solution – implant dentures in DuPont. If you or a loved one is interested in learning how these permanent prosthetics can improve your smiles, call us today.
Why Choose DuPont Family Dentistry for Implant Dentures?
Partner with Local Implant Specialists
Family-Owned & Operated Dental Practice
Advanced Dental Technology for Improved Treatment Planning
What Are Implant Dentures?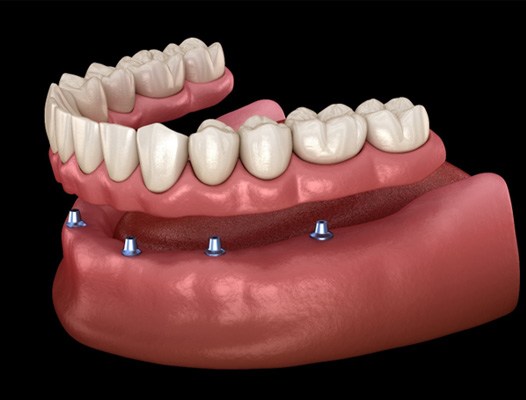 If you are looking to regain your confidence, boost your appearance, and enjoy a quality life, you cannot go wrong in choosing implant dentures. As superior prosthetics that are designed to last decades if not a lifetime, they are commonly made out of titanium or zirconia. Using between four and six implant posts, our team can place them along your jawbone for optimal support and stability.
Because they permanently fuse with your bone tissues, you are unlikely to need replacements over time. And because of their versatility, you can enjoy a fixed or removable denture depending on your need and/or preference:
Fixed/Permanent Implant Dentures
As hybrid prosthetics, fixed implant dentures make it easy to maintain your new smile. Although a dense jawbone is necessary for this type of prosthesis, we will place the appropriate number of implant posts along the bone before securing it into place. Once attached, it cannot be removed by anyone other than a skilled professional.
Removable Implant Dentures
Should you choose a removable denture, you will not need as much jawbone density. Instead, these Snap-On dentures as they are also known need only 2-5 implant posts and can be easily removed for cleaning each day. They are held into place with a bar- or ball-retained device so that it is simple to insert and take out as needed.
The Implant Denture Process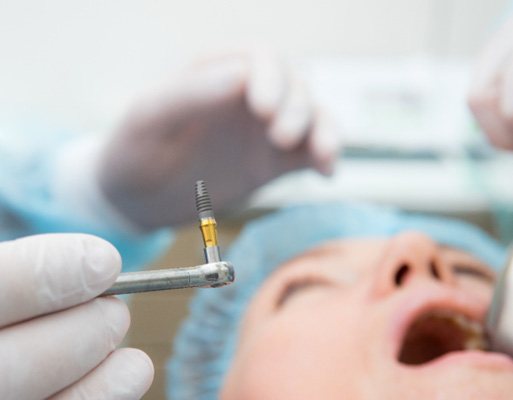 Patience is a necessity when preparing to go through the implant denture process. There are typically four steps all patients must follow to ensure that results are successful. From the initial consultation that is required by a member of our team to the final placement of the denture, it is a timely yet worthwhile venture.
When meeting with one of our team members to discuss whether implant dentures are the right option for your smile, we will determine if you require any preliminary treatments such as bone grafting or periodontal therapy. Once cleared for surgery, we will refer you to an implant dentist who can place the posts and attach healing caps for recovery. The following 3-6 months will be spent allowing your mouth to heal and osseointegration to complete, which is the fusing of the bone and implants. After attaching your metal abutments, which are small connector pieces, we will secure your new denture into place.
Am I a Candidate for Implant Dentures?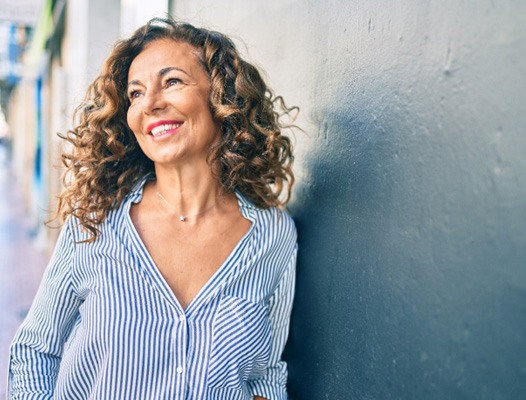 You will be pleased to learn that if you have an entire arch of missing teeth, there is a good chance you will be considered a candidate for implant dentures. Oftentimes, patients need additional treatment before receiving these prosthetics, as the jawbone may not be as dense as it is preferred, or gum disease is evident and must be treated. No matter your situation, you can trust that we will evaluate your oral and overall health to position you in the best way for implant dentures.
Benefits of Combining Dentures & Dental Implants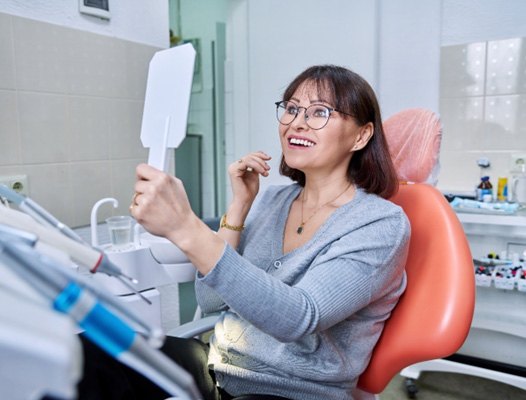 Many individuals might assume that combining dentures and dental implants is simply not possible; however, it is, and it is reliable and proven effective. With millions of people throughout the U.S. living with dental implants, you will find that the benefits of this combination include:
Teeth that can last 30+ years or even a lifetime with proper care
A nearly fully restored bite force and chewing power, making eating your favorite foods much easier
Greater confidence and aesthetics
Improved comfort as opposed to traditional dentures that can become ill-fitting as the jawbone shrinks over time
The ability to eat and speak like normal