September 22, 2020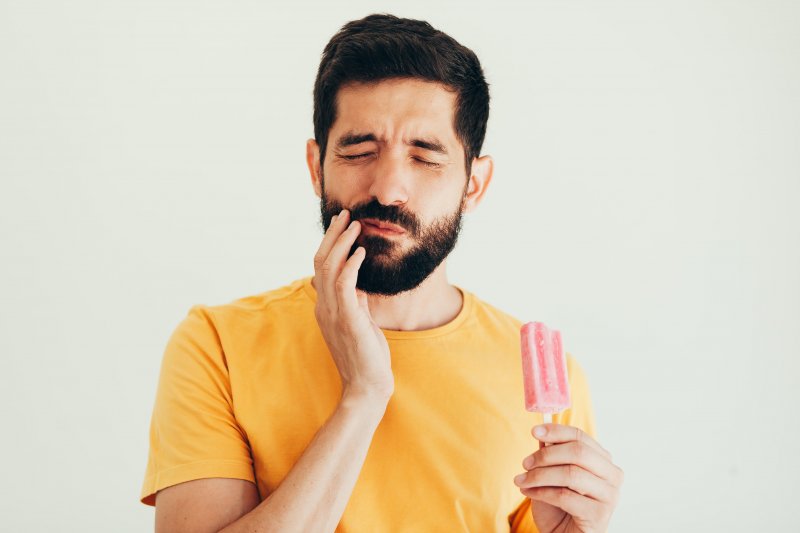 While you might have your sights set on that deliciously hot cup of coffee before you, your teeth may have something else in mind. The moment the warm liquid enters your mouth, a piercing pain causes you to quickly set your cup down and reach for your cheek. If this unpleasant feeling leaves you wondering if you should quickly call your dentist to schedule an appointment, you may want to pause for a moment to determine what could be causing your tooth sensitivity. Read on to find out how you can tell if the problem you are experiencing warrants a visit to the dentist or a change in your at-home oral hygiene routine.
What Causes Tooth Sensitivity?
Tooth sensitivity can be caused by various problems occurring within your oral cavity, some of which include:
Worn tooth enamel
Dental fillings that have worn down over time
Gum disease
Severe tooth decay that has penetrated the enamel and dentin layers
Recessed gums that are exposing the roots of your teeth
Dental trauma that results in chipped or broken teeth can also cause increased sensitivity and pain when attempting to consume your favorite food or beverage.
When to Seek Professional Help
You may be tempted to shrug it off and hope it goes away on its own, but if you want to avoid the potential for worsening conditions, it is always best to call and speak to a member of your dental team. By providing insight into your problem and what you are experiencing, they will be able to determine if you should treat your problem at home or go ahead and schedule a time to see the dentist.
If recommended that you come into the office, your dental professional will examine the problem area and look to see what is happening underneath the gums with the help of digital X-Rays. Once it is determined the cause of your tooth sensitivity, there are various treatment options available, each designed to treat tooth sensitivity at various stages.
Your dentist may recommend:
Using a toothpaste designed to help with sensitivity – If the problem is mild, they might recommend you use a desensitizing toothpaste that will help to block hot or cold temperatures from reaching the tooth's nerves. Remember, it can take multiple applications to be fully effective.
Undergoing a fluoride treatment – By applying fluoride to your teeth during an appointment, it will help to strengthen the tooth enamel and better protect against future tooth decay.
Receiving a dental restoration – If the tooth is severely decayed or damaged, you may need a dental crown, inlay, or cosmetic bonding to fix the problem and help you avoid sensitivity.
A surgical gum graft – For more serious sensitivity issues caused by gum recession, a graft will allow your dentist to take a piece from the roof of your mouth and place it over the exposed area of your tooth, better protecting the root.
A root canal – If all other forms of treatment are unsuccessful, it may be time to undergo a root canal to remove the decayed and problem area and give your natural tooth a chance to heal and strengthen with the help of a custom dental crown.
No matter the reason for your tooth sensitivity, it is always best to seek the expertise of a professional. Using safe and effective treatments, you will be able to enjoy your favorite food or beverage before you know it.
About the Author
At Dupont Family Dentistry, patients visit our dental office for various reasons, one of which is tooth pain. Caused by a wide array of potential issues, sensitivity is a common development among individuals who lack proper oral hygiene or are facing dental trauma. Fortunately, our team of experts can help diagnose the underlying problem and offer safe and effective treatment. If you are dealing with piercing pain in a particular tooth or area of your mouth, contact us at (253) 964-7000.
Comments Off

on How to Tell if You Need Immediate Care for Your Sensitive Teeth
No Comments
No comments yet.
RSS feed for comments on this post.
Sorry, the comment form is closed at this time.