November 22, 2020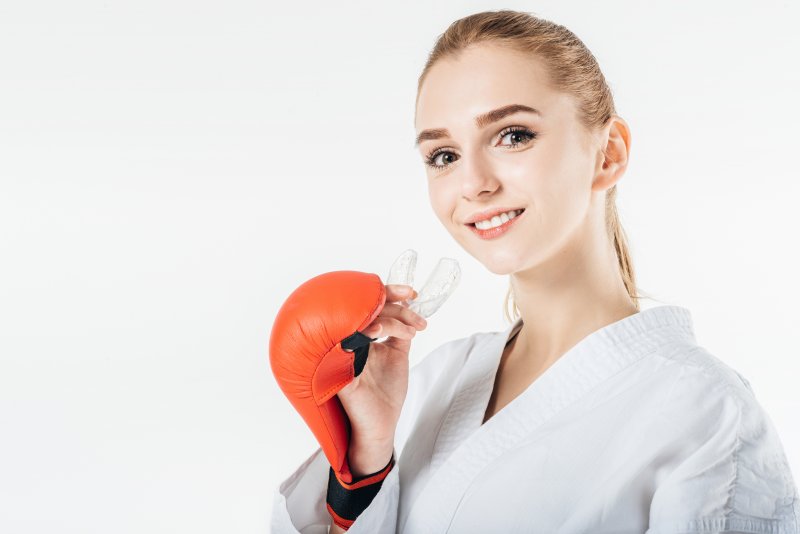 Dentists throughout the country are often reminding both patients and their parents about the importance of proper mouth protection when engaging in sports or physical activities. Why? Because of the damage that can occur to the teeth and gums. Is your teen actively involved in a school sport? Do they spend the majority of the time outside riding their bike or running? If so, it is time to consider why a mouthguard in DuPont is most beneficial for the future of their smile. Read on to find out about the benefits of these custom oral devices so you can help them avoid a sudden trip to the emergency dentist.
1. It Can Keep Your Teeth Firmly in Place
How many hockey players have you seen who are missing one or more teeth? This extremely active and physical sport often causes many individuals to live with gaps in their smile either because of a hard hit, a fall on the ice, or a puck to the mouth. No matter the sport, a customized mouthguard serves as a barrier between potential danger and your child's teeth. Pearly whites that are suddenly knocked out of place should be seen immediately by a children's dentist in DuPont if you plan to save the tooth, but if you want to avoid it altogether, a mouthguard can save you time and money on an unnecessary trip to the dentist's office.
2. It Can Prevent a Jaw Fracture
This may come as a surprise, but a mouthguard can actually help lessen the blow and avoid a potential jaw fracture. This type of dental emergency is one that often requires a trip to the local emergency room and leads to significant recovery time at home. If your child would rather be playing their favorite sport instead of recuperating on the couch because of a fractured jaw, make sure their dentist provides them with a custom-made oral device that is comfortable to wear and properly protects their smile.
3. It Protects Against Soft Tissue Lacerations
Your child's teeth are not the only areas of their smile that need protection. A mouthguard can also serve to safeguard their oral tissues (i.e. gums, tongue, cheeks, and lips). When hit hard, soft tissues can often become an unintended target resulting in teeth colliding with tongues or lips or scratches and cuts along the gums. By wearing a mouthguard, it can keep your child's teeth from making contact with these areas, keeping them free of damage and fully intact.
4. It Can Protect Against Tooth Fractures or Breaks
While your child can knock out a tooth while playing sports, there is also an increased chance for chips, cracks, and breaks. When the potential for a hard hit exists, the teeth are at a greater risk for damage. Tooth fractures can be painful and costly, resulting in a trip to the emergency dentist to be treated with a dental crown, root canal, or even a possible extraction. The severity of the injury will determine the restorative care needed, but a mouthguard can eliminate the need for this type of visit in the first place.
Do not underestimate the benefits of a custom-made mouthguard. Even if your child doesn't appear too excited about wearing one, it is necessary that you convey how important it is to protect their smile.
About the Practice
At Dupont Family Dentistry, we want you to feel confident about the treatment you receive in our office. Our team of professionals is here to ensure your child is better protected before entering the field, court, track, or rink, which is why we provide custom-made mouthguards. Offering better protection against sports-related dental injuries, your child's smile can avoid serious harm while you enjoy greater peace of mind. If you think your child or teen could benefit from a customized mouthguard, contact us at (253) 964-7000. We are here to help!
Comments Off

on 4 Reasons Why You Should Wear a Mouthguard When Playing Sports
No Comments
No comments yet.
RSS feed for comments on this post.
Sorry, the comment form is closed at this time.